Kristin Musgnug
b. 1959, Buffalo, NY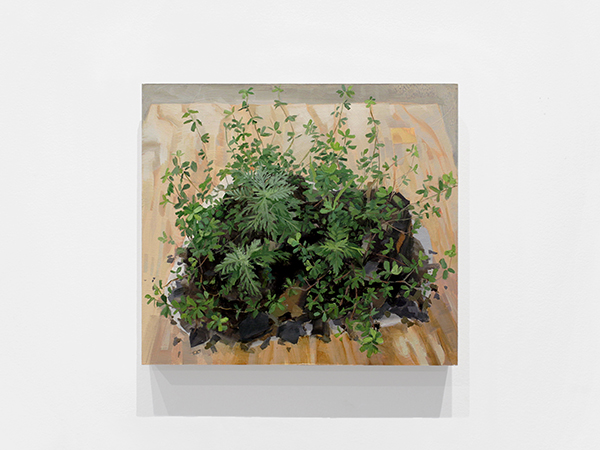 Kristin Musgnug, Small Ragweed and Hop Clover from Logging Road, 2017
oil and acrylic on panel, 16 x 18 x 1-1/2 inches
Kristin Musgnug (born 1959, Buffalo, NY) received a BA in Art History from Williams College, MA, in 1981 and an MFA in Painting from Indiana University in 1988. From 1988 to 1990 she was an Artist in Residence at the Glassell School's Core Program, Museum of Fine Arts, Houston. Solo exhibitions include the North Cascades Institute Environmental Learning Center, Diablo Lake, WA (2015); Un-Natural Histories: Paintings of Invasive Species, University of Arkansas, Fayetteville, AR (2010); Kansas State University, Manhattan, KS (1999); Uses of Nature, Galveston Arts Center, Galveston, TX (1998); and the Marko Cepenkov Center of Culture in Prilep Macedonia (1996).

Kristin Musgnug's paintings spring from an interest in the complex interactions between people and nature, including how our concept of nature shapes our actions toward the land. Painting on location is crucial to her process. The paintings are the products of an intimate experience of place. For Musgnug, the act of making a landscape painting has less to do with making an objective visual record and everything to do with investigating the ideas, fears and fantasies we attach to nature. The work draws on her interest in the scientific view of nature as well as the role nature occupies in the human psyche.

Musgnug lives and works in Fayetteville, AR, where she is Professor of Painting at the University of Arkansas.


Click here for the artist's resume.